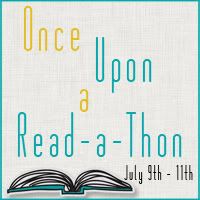 Today is the start of Once Upon a Read-a-thon hosted by Lori at Pure Imagination, Angela at Reading Angel, and Candace of Candace's Book Blog. I'm jazzed about participating. This time around, I plan to do a little bit of rereading. Verse novels are some of my favorites and I have a lot that I've been meaning to revisit, so that is exactly what I will be doing.
The books I plan to read
and finish (I started this yesterday and am loving it)
I will be working all 3 days of the read-a-thon, I have a date night with a friend, and my husband has the day off one day and will want to hang out instead of watching me read, BUT I will getting some reading in for sure.